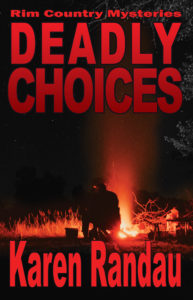 An engaging ex-con. An arrow in an elderly woman's chest. A slain investigative reporter. Karen Randau brings back Rita and Cliff as innocent bystanders to a secret worth killing for in Deadly Choices: Book Three of the Rim Country Mystery series.
An elderly woman stumbles into their campsite as Rita, Cliff, and Rita's long-lost mother enjoy s'mores and folk music around the campfire. Things get interesting when Rita's mother falls for the key suspect, Rita's old friend and mentor. Rita discovers her mother isn't the woman she thought she was, and her dear friend has forced her into hiding.
Murder and decades of someone else's bad choices — this isn't your average motherly visit!