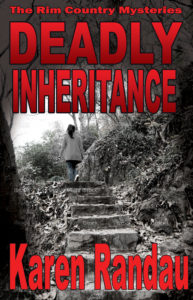 A murdered hotel clerk. A conniving ex-girlfiend. A ruined Scotland honeymoon. Karen Randau brings back Rita and Cliff as newlyweds in Deadly Inheritance: Book Two of the Rim Country Mystery series.
A hotel clerk dies in front of Rita and Cliff as they check in to the honeymoon suite of a luxurious Scotland hotel, and the action shifts into high gear for a one-of-a-kind tour of the Scottish highlands. Cliff discovers the truth about the grandfather he never met, Rita puts her life on the line to prove their innocence as the body count continues to rise, and what's buried under their property puts them and everyone around them into extreme danger.
Murder and an inheritance that brings massive trouble — this wasn't how Rita planned her honeymoon!

Read a deleted chapter: "The Wedding"