Tawnee Mountain Mystery Multi-Author Series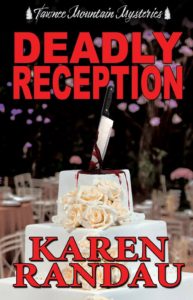 A severed head. A philandering husband. Skeletons in the basement. This was not the perfect wedding Rita Avery planned for her daughter Zoe!
Rita Avery and her detective husband Cliff arrive at New Jersey's Tawnee Mountain Resort prepared to greet 300 of Zoe's wedding guests in just three hours. Who would have expected to find a man's torso in their closet?
Things explode into high gear when the victim's head shows up at the golf equipment shack. A good look at his social media makes Rita wonder if a wife murdered her husband as revenge for infidelity. Or did a secret admirer decide to liberate the wife from her scoundrel husband?
Worse, is Zoe in life-threatening danger . . . again?
And will Rita and Cliff escape the trap in which the murderer snares them?
Murder and a passel of twists that will keep you on the edge of your seat. Zoe's wedding is the most exciting you'll ever attend!